Consultancy
Odour control and air pollution control can be achieved by many ways but choosing the optimum solution demands a significant in-depth understanding of many factors. Many leading organisations, both end users and contractors, draw on our 30 years of expertise.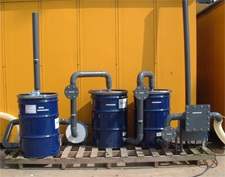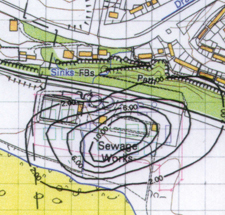 Odour dispersion modelling
Our reports supply all the appropriate calculations and assessments necessary to support advice required during the planning and design stages of a project. We also offer free advice on process requirements.
Each customer application is given careful consideration to ensure that the equipment offered is designed to give the most cost effective and best possible solution to fully meet the outcome required.
Odour mapping
For clients with an existing factory or treatment facility, ERG offers an odour mapping service to determine the most significant sources of odour. Armed with this knowledge, a structured approach to dealing with each emission can be developed, and a properly optimised, site-wide odour management plan implemented.
When odour control equipment is installed, this can be targeted to the most odorous parts of the site first, maximising the benefit of the capital outlay, improving the site's working environment and reducing the odour at the site boundary and with it, odour complaints for the site's neighbours.
Odour mapping involves taking samples of gas from a variety of locations around each site and analysing the total odour (using olfactometry out carried by an accredited third-party lab to EN-13725), H2S (typically using a portable gas monitor), or a variety of other odorous compounds.
BAT appraisals
Where the source and nature of the odour or air pollution is known, ERG can provide a BAT (Best Available Technology) appraisal of the alternative methods for dealing with the pollution, and make a recommendation on how best to solve the problem.
And since ERG offers a full range of air pollution and odour control equipment, we are completely familiar with the technical, commercial and operational implications of each different type of system. Our chartered chemical engineering staff is therefore able to provide technically competent recommendations backed by years of practical experience.
Front end design studies
ERG offers competitively priced design studies for the supply of odour and air pollution control systems.
From as little as £5k, up to £50k depending on what is required, we can provide the fundamental design data (design basis statements, heat and mass balances, P&IDs, general arrangement drawings, civils requirements, electrical, control and utility requirements) required for Local Authority and Environment Agency submissions, or for internal planning and detailed project costings, or a completely engineered specification package for procurement.
Pilot Trials
For existing polluting processes, it is often helpful to carry out a pilot trail to establish the feasibility of treating the odour or air pollution using the proposed system.
ERG has 5 different pilot plants available offering a complete range of pilot trial options. These include V-tex® scrubbers of different sizes and materials, packed bed scrubber, venturi/quench and dry media (activated carbon and oxidizing media) systems.
Site surveys and reports
Backed by our extensive experience, our well-qualified designers, project managers and commissioning engineers can visit your site, identify the problems with your odour and air pollution control strategy and equipment, and provide a detailed, practical and costed report into how to solve your problem.
GET IN TOUCH
tel UK office: +44 (0) 1403 221000
tel Middle East office: +962 6515 9021 ext 106
e-mail info@ergapc.co.uk