Energy Recovery from Waste
Recovering energy from waste is a great way to address the problem of how to dispose of waste which cannot be recycled or composted. This waste is usually left to rot in landfills, but this of course has an adverse effect on the environment – especially as some plastics can take hundreds of years to decompose.
With our specialist waste recovery equipment, we're not only providing a benefit to the environment by reducing the amount of waste in landfills, but we're also helping your business reduce operating costs.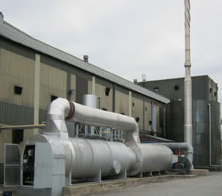 How Much Waste Does the UK Produce?
The UK produces over 200 million tons of waste every year, with over half of this coming from construction, demolition and excavation industries and around 13% generated from household waste.
Although the volume of commercial and industrial waste has been reduced since 2012 thanks to improved recycling and energy recovery processes, the proportion of waste that goes to a landfill is still around 23%. According to the government's latest figures, the waste that contributes to energy recovery is only at 0.9%.


What Type of Waste Can Be Recovered?
Residual waste is whatever has been left over after all the recyclable elements have been taken away, generally because the cost of further separating and cleaning the waste are bigger than the potential benefits. However, it's possible to partially recover energy from this waste.
Typical wastes that can be processed are: contaminated organics from chemical processing, by-products from chemical processes, waste oils from food processing, and any other substance with significant calorific value.
How Does Energy Recovery from Waste Work?
Using specialist equipment from ERG, the energy released from the waste stream can be captured in a thermal fluid system or a steam boiler. That energy can then be harnessed and re-used on-site to reduce the fuel bills and the waste disposal costs of the operator.
Find out more about our waste recovery process from our case study below.
ERG Energy recovery from waste
Why Choose ERG?
Here at ERG, we have the expertise to design and supply equipment suitable for recovering energy from waste. What's more, we will also assess the pollution requirements from combusting the waste stream and can supply suitable equipment to meet the relevant regulations in place.
To find out more, contact one of our energy recovery experts on 01403 221000 or email us on info@ergapc.co.uk.
GET IN TOUCH
tel UK office: +44 (0) 1403 221000
tel Middle East office: +962 6515 9021 ext 106
e-mail info@ergapc.co.uk