About Us
The Company
ERG (Air Pollution Control) Ltd, a Lloyds Register accredited ISO 9001 company, was formed in 1978 and over the years has become a well-established and reputable name in Environmental Engineering and Contracting.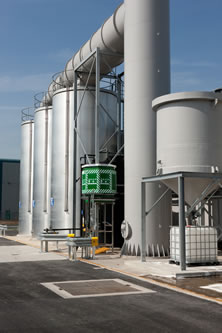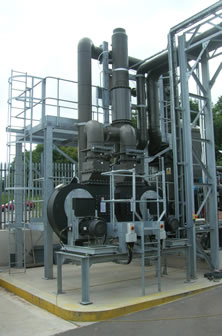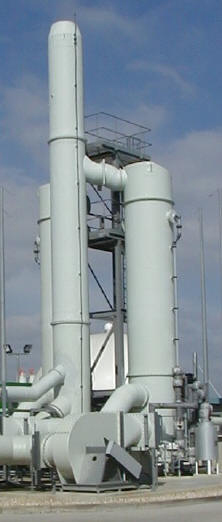 Products and Services
ERG is structured into 6 Divisions which are:
Odour control which supplies systems mainly to the UK and Middle East waste water industry.
Air pollution control which supplies gas treatment systems to a wide range of industrial clients across the world, either for control of emissions or for upstream intermediate gas processing.
V-tex® which develops and protects the technology and supports ERG's global network of V-tex® licensees.
Thermal systems, which incorporates thermal oxidation, thermal fluid heaters, and toxic waste destruction solutions.

Maintenance which supplies maintenance services for odour control and air pollution control systems.

Consultancy which supplies services such as front end engineering design studies, pilot trials and odour modelling to assist our clients with the specification of their air pollution or odour control requirements.
Experience
Many of ERG's staff have worked for ERG for more than 15 years and at least 50% of the employees have more than 7 years experience with ERG. At the centre of the company is the engineering department which employees several chemical engineers together with experienced mechanical and electrical engineers.
Quality, Health and Safety, and Environment
ERG operates a Quality Management System accredited by Lloyds Register Quality Assurance (LRQA) to ISO9001:2015, covering all aspects of our internal processes, supplier management and interaction with our clients. So as a specifier, buyer or operator of one of our air pollution or odour control systems, you can be confident you are receiving a consistently high standard of equipment and service.
ERG also operates a comprehensive Health and Safety Management System which allows us to comply with all of our CDM responsibilities as a sub-contractor, or to act as the principal contractor if required. We are proud of our strong site record for Health and Safety and can always provide up-to-date safety statistics on request.
ERG is an accredited supplier registered with UVDB Verify by Achilles. This recognises ERG's standing as a supplier to many utility companies over many years.

ERG is a responsible custodian of the environment in which we operate. As such we operate within our environment policy and all our activities and operations are compliant with the ISO 14001 standard to which we are accredited. We also have set ourselves the goal to continually reduce our unit carbon footprint by at least 2.5% year on year.
ERG's Clients
ERG's clients number several leading global companies, including:
United Utilities, Scottish Water, Thames Water and Southern Water in the wastewater industry.

Pfizer, GSK, Eli Lilly, Schering Plough and Novartis in the pharmaceutical industry


Alcoa and Corus in the metal processing industry.

Amec and Stone and Webster in the oil and gas industry.

Pedigree and Royal Canin in the pet food industry.

BNFL in the nuclear industry.

Van den Burgh and Cadbury's in the Food Industry.

Ford Motor Company, Avesta and Plessey in the plating industry.


Optical Fibres and Pirelli in the optical fibres industry.

Biffa Waste Services, Greenstar, Fiberpower in the waste disposal industry.
The above is just a small selection of ERG's client list. ERG has more than 600 operational plants treating pollution across the globe.
The Results of ERG's Horsham Office – Covid 19 Risk Assessment
Following consultation with the workforce, ERG has carried out a risk assessment in line with the HSE guidance. The results of this has enabled ERG to produce a Plan for Return to Office Working at ERG, Enterprise House. Click here to see the results of the Risk Assessment.
GET IN TOUCH
tel UK office: +44 (0) 1403 221000
tel Middle East office: +962 6515 9021 ext 106
e-mail info@ergapc.co.uk