Effective Sewage Odour Control Systems
Used as a stand-alone package, or in combination as part of a DryCat system, ERG's biofilters provide trouble-free odour control for small to medium sized sewage treatment plants.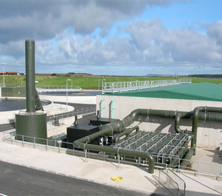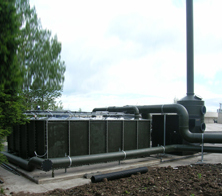 Filled with woodchip and enhanced using calcified seaweed, both of which are supplied from sustainable sources, ERG's biofilters have been refined and optimised over the years to offer outstanding value for money and simple operation. They eliminate the requirement for the storage of chemicals on site and need only a water or filtered final effluent supply and a drain connection.
Specially selected bacteria colonize the substrate media within the biofilter and digest the odour-causing compounds, which typically include H2S, mercaptans, organic sulphides and ammonia. The optimised environment for bacterial activity is maintained by regular, controlled irrigation, which ensures the sewage odour control is effective.
All our systems are custom-designed for the odour control duty required, and include a biofilter housing and irrigation system, biomedia, an air extraction fan and ductwork, as well as an electrical control panel.
Designed and built to BS4994 and fully compliant with WIMES 8.05, ERG's biofilter systems offer assured performance and competitive costing.
Get in touch today to discuss your sewage odour control requirements with the experienced and knowledgable team here at ERG.
GET IN TOUCH
tel UK office: +44 (0) 1403 221000
tel Middle East office: +962 6515 9021 ext 106
e-mail info@ergapc.co.uk