Wet Scrubbers and Chemical Scrubbers
ERG has been supplying wet scrubbers and chemical scrubbers for odour control since 1978, and has installed more than 50 systems throughout the UK in the last 10 years. We have treated air flowrates from less than 1,000 up to 200,000 m3/hr.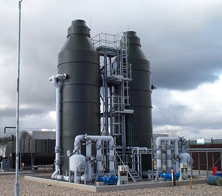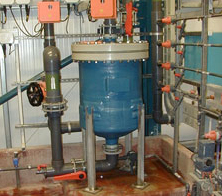 Wet Scrubbers built to the highest standards
With more than 30 years of experience and optimisation, we can offer wet scrubbers for your application with assured performance and at competitive cost.
Designed to BS4994 and custom-built for the scrubbing duty required, our scrubbers offer high performance. Our scope of supply typically includes a packed tower scrubber with liquor recirculation pump and pipework, chemical storage and dosing system, air extraction fans, extraction ductwork, electrical control panel, outlet H2S monitoring system and stack.
Odorgard™ scrubbing
ERG is the UK's leading supplier of Odorgard™ catalytically enhanced scrubbers, using Odorgard™ catalyst from the speciality chemicals company Johnson Matthey.
Odorgard™ scrubbing has several advantages over traditional scrubbing.
Simultaneous removal of H2S and a wide variety of other odorous compounds including mercaptans, organic sulphides, ammonia, amines and many VOCs

Guaranteed odour removal performance in a single scrubbing tower

Reduced chemical consumption, due to the catalyst chemistry
ERG's Odorgard™ scrubber systems
Single and multi-stage wet scrubbers
Single stage scrubbing is used for simple applications where only basic wet scrubbers are required. Single stage scrubber applications include odour control for waste water inlet works and treatment plants.
Multi-stage scrubbing is specified for more arduous duties combining high concentrations of diverse odours, for example ammonia, amines, hydrogen sulphide and mercaptans. Multi-stage scrubbers may also be combined with an initial venturi scrubber for dust removal and a final polishing dry media filter for insoluble VOC removal. Multistage wet scrubbers are frequently employed on sewage sludge applications and for sludge dryer off-gas treatment.
If you have any questions about our wet scrubbers and chemical scrubbers, please do not hesitate to contact us. Call 01403 221 000 to discuss your requirements for scrubbers with a sales engineer.
GET IN TOUCH
tel UK office: +44 (0) 1403 221000
tel Middle East office: +962 6515 9021 ext 106
e-mail info@ergapc.co.uk