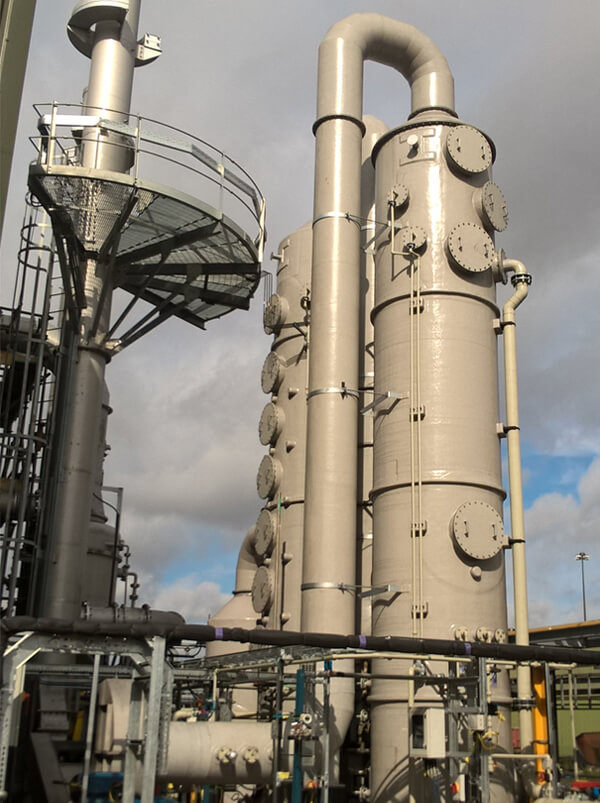 Packed Towers
Packed tower scrubbers are a highly efficient way to remove soluble contaminants from air and other gas streams. Packed towers are also used for stripping contaminants from liquid streams and for direct-contact cooling of gas streams.
Key Advantages of Packed Towers are:
Used for high efficiency mass transfer (scrubbing and stripping) or heat transfer (gas cooling)

All ERG designs are bespoke and matched to the detailed requirements of the application specification

ERG uses industry-standard random packing to optimise operating efficiency with system pressure drop and equipment size

All packages carry a performance guarantee and are designed to provide robust operation at the lowest capital and operating costs
Our extensive design and operating experience enables us to optimise the system performance.
Design Parameters
Flowrate ranges from 100 to 100,000 m³/hr per tower, multiple towers in parallel can be used for higher flowrates
Contaminant loadings depend on type, with typical inlet loadings ranging from 100mg/m³ up to 100,000 mg/m³
Typical removal efficiency 99.5%, up to 99.95% as required
Vessel diameters from 200 to 4,000mm, heights typically up to 10m, or higher if the process requires it
Removal of any soluble gaseous contaminant
Cooling saturated gas streams from typically 60°C to <30°C or as required
Diagram of a typical chemical scrubber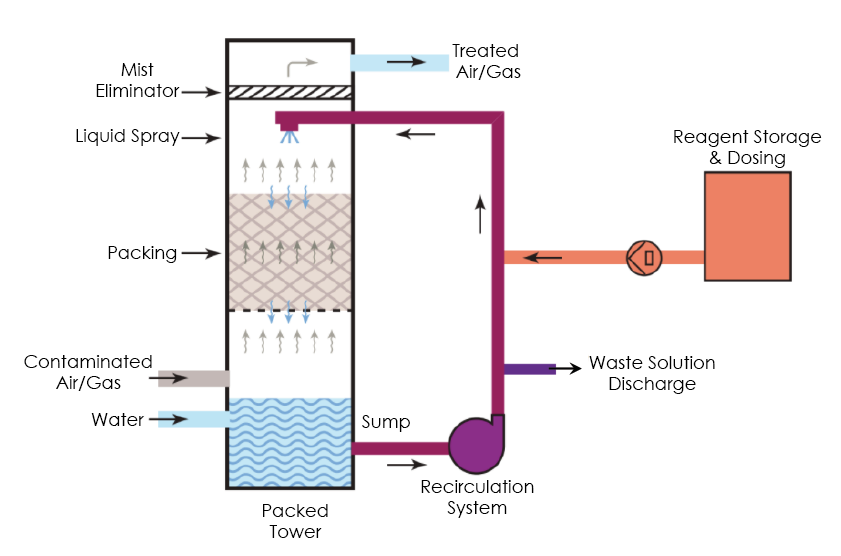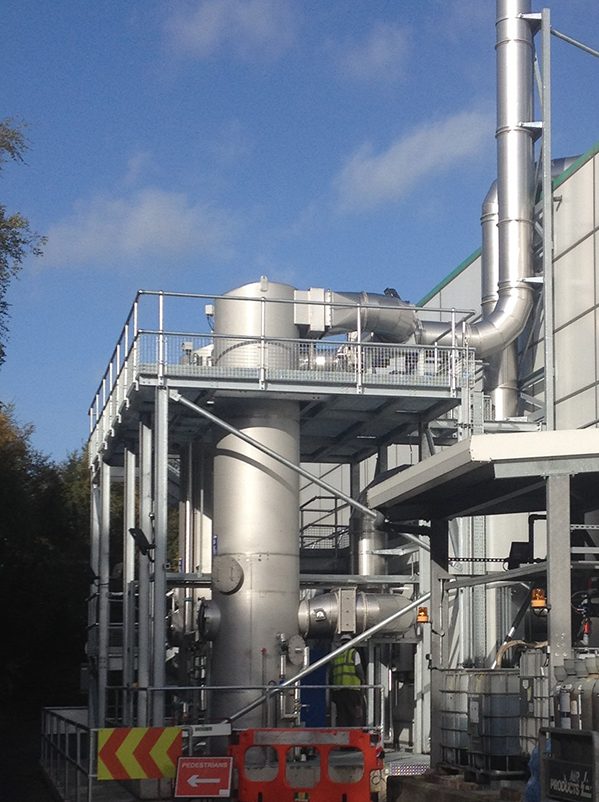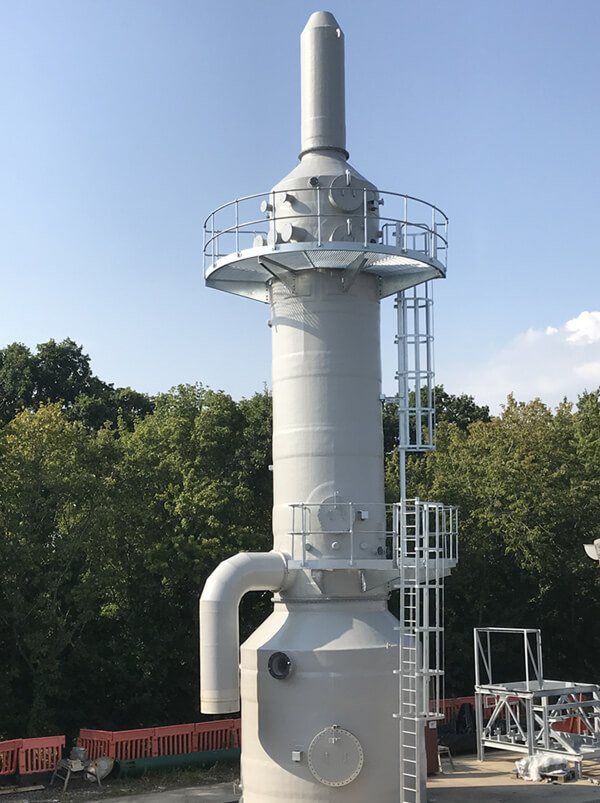 Key features
Complete systems supplied including recirculation pump, pipework, fan, access platform, instrumentation and control system – and may be integrated further with other ERG mass/heat transfer equipment (e.g. quench, venturi, carbon filter, etc.) into a single Air Pollution Control solution

Commonly used packing types include Snowflake/AstraPAC and 1", 1.5" and 2" Pall rings

Recirculated liquor flowrate selected to minimise pump flow and energy consumption at optimal scrubbing performance

Liquor distribution across packing using sprays, trough or ladder distributors depending on application

Droplet elimination using chevron, impaction blade or woven mesh design to suit the application – clean in place sprays available to assist with on-line maintenance

Scrubber sump tank integrated into the packed column vessel

Chemical dosing, water make-up and blowdown control to match specific performance requirements

Instrumentation selection to give robust operation, high reliability and tight performance control

System control by stand-alone MCC/C&I panel or integrated DCS, with HART or Profibus protocols available as standard

Vessels designed as standard to PD5500 (metal) and BS EN 13121 (GRP) with UKCA or CE marking to PE(S)R or PED as appropriate. Other design codes are available as required

Material selection to suit contaminants and reaction chemistry: common materials include uPVC, PP, cPVC, Derakane

®

GRP, Crystic

®

GRP, 304SS, 316SS

Heat transfer using in-line heat exchangers
Examples of typical scrubbing solutions
HCl scrubbing water/dilute HCl solution to recover HCl for reuse
HCl scrubbing using NaOH solution to achieve extremely low discharge concentrations
SO

2

scrubbing using NaOH solution – for scrubbing solutions with lime see here
H

2

S scrubbing using NaOH and NaOCl solution
NH

3

scrubbing using dilute sulphuric acid solution
VOC scrubbing using water or mineral oils
Further information is available in the product brochure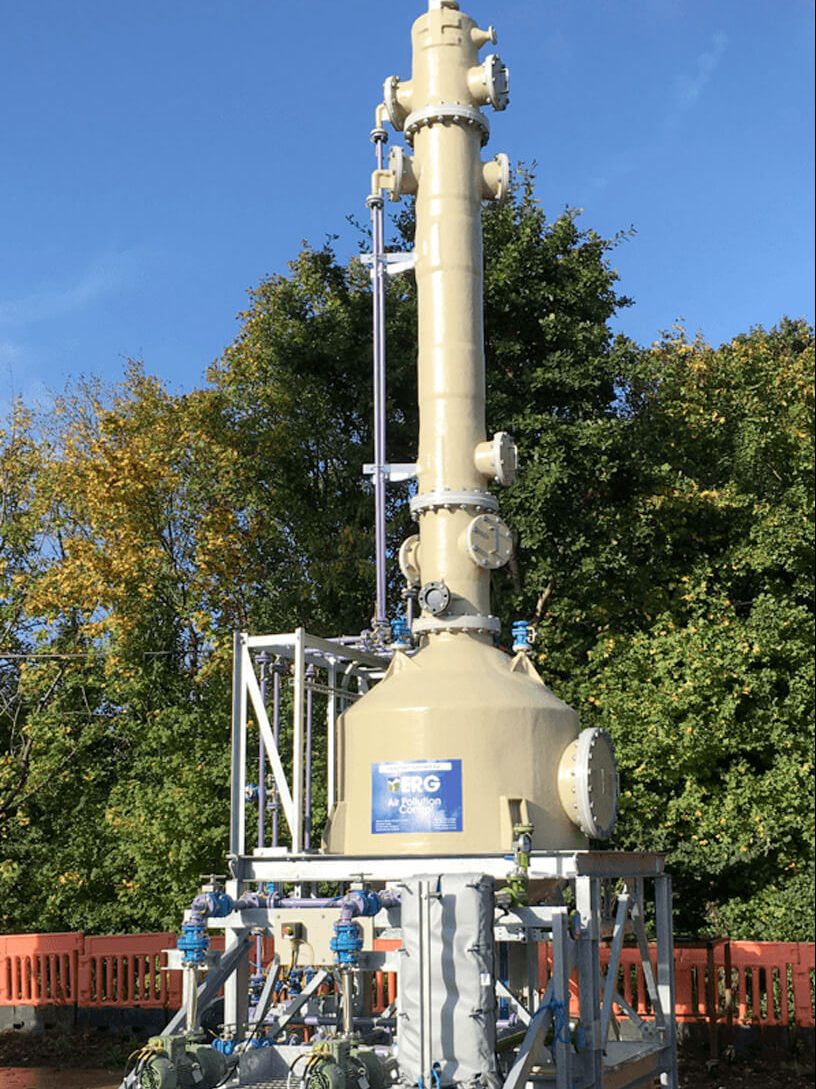 UK office:
+44 1403 290 000
Middle East office: +962 6515 9021
Email:
info@ergapc.co.uk
UK office:
+44 1403 290 000
Middle East office: +962 6515 9021
Email:
info@ergapc.co.uk