Carbon Filters from ERG
In partnership with our carbon and dry media framework suppliers, ERG offers a comprehensive range of carbon filters. These include activated carbon, impregnated carbon, oxidising alumina media, and hybrid, multi-media filters. For the Middle East market we also offer in situ water and chemically regenerable carbon.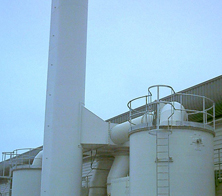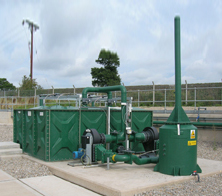 Our dry media filter may be used as a stand-alone filter for polishing a
chemical scrubber
discharge or as part of a
DryCat system
. All our dry media filters require no operator intervention and provide guaranteed odour control performance.
A wealth of experience

ERG has treated air flowrates of less than 50m3/hr up to more than 80,000 m3/hr with a single vessel, and has a variety of configurations to offer, including deep bed, dual deep bed, annular and modular section vessels. So when it comes to carbon filters and dry media filters, we've got it covered!
Striving to meet our clients' requirements
Working to suit our client's requirements, ERG optimises each dry media filter design based on the required outlet emission, the specified bed life between media changes, the space available, the air flowrate, and the capital cost. And with more than 100 dry media filters installed and performing successfully since 1998, each filter system is backed by the confidence of ERG's extensive experience.

Each of our dry media and carbon filters is tailored to treat the contaminant odours. We can offer systems to treat H2S, mercaptans, organic sulphides, ammonia, amines, and VOCs in any combination, and can also provide a guarantee of outlet odour concentration in ouE/m3.
Designed and built to BS4994 and fully compliant with WIMES 8.05, ERG's dry media and carbon filters offer assured performance at a competitive price.
ERG's DryCat systems
ERG's Water Regenerable Carbon
ERG's CF range for Middle East
ERG's Dry Media Filters
How a carbon bed is used up
GET IN TOUCH
tel UK office: +44 (0) 1403 221000
tel Middle East office: +962 6515 9021 ext 106
e-mail info@ergapc.co.uk