Chemical & Pharmaceutical
ERG's purpose-designed scrubbing systems are engineered to suit each application and client's requirements.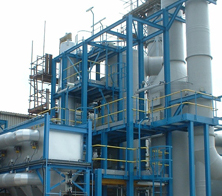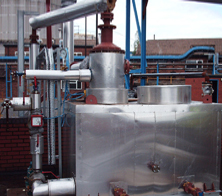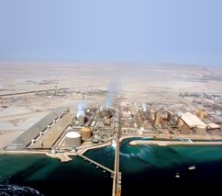 From skid-mounted
V-tex®
and packed tower scrubber packages to major, on-site installations comprising quench systems, scrubbers (including
V-tex®
, packed tower and venturi scrubbers), heat exchangers, plume suppression and effluent treatment, ERG can offer a properly engineered and optimised solution for clients in the chemical, fine chemical and pharmaceutical sectors.
Extensive range of process experience
Our systems treat process and reactor off gases, storage tank vents, thermal oxidizer flue gases and pressurised steam processes where contamination is from
Acid gases (HCl, Cl2 , SO2 , HF, HBr),

Dust and aerosols (100 to <1 micron particle sizes),

Pharmaceutical "actives" and

VOC's
And where the operating temperature ranges are from ambient up to 1200
o
C.
Case studies
The following selection of recent projects identifies the range of systems ERG has designed and installed. All are successfully operating to achieve the design duty.
Saffil Ltd: speciality chemical fibres manufacturer High temperature Hastelloy C276 quench vessel followed by two-stage HCl scrubber system to cool and condition the gas for an RTO, and then recover 4% HCl solution. Project value £550k, completed 2004.
Novartis: pharmaceutical manufacturing facility V-tex® scrubber skid-mounted package to treat high concentration batch release of HCl from a pharmaceutical process. ECTFE/GRP vessel designed to BS4994 and certified to PED cat IV, PFA/PTFE lined pipework, and electrical installation to ATEX cat 1. Project value £100k, completed 2008.
Robinson Brothers: speciality chemicals manufacturer Incinerator flue-gas treatment, comprising high temperature bag filter, Hastelloy quench, 2-stage multi-purpose Celmar polypropylene/GRP V-tex® scrubber for SO2 removal, heat recovery for plume suppression, dry powder dosing for dioxin removal and variable speed fan for burner optimisation. Project value £1.2M, completed 2001.
Koppers Europe Ltd: industrial oil production and distribution facility Naphthalene odour scrubber package. Skid-mounted V-tex® scrubber package in carbon steel to remove naphthalene vapours from storage tank vents. Naphthalene vapours scrubbed using recirculated mineral oil. Project value £60k, completed 2007
Indorama: fluorocarbons manufacturing facility Incinerator flue-gas treatment comprising high temperature quench and scrubber system to remove HF and HBr. Fabricated from PP/GRP. Project value £100k, completed 2005.
GlaxoSmithKline: pharmaceutical manufacturing facility. Skid designed to remove halogenated hydrocarbons from continuous process exhaust and vents. Comprises condenser and two stages of packed scrubbing towers on a common, baffled sump tank. ECTFE/GRP vessels, PFA pumps and pipework, Hastelloy C tower internals, condenser and chiller. Scrub liquor temperature control critical. Project value £250k, completed 2007.
QAFCO: fertilizer producer in Qatar. Two skid mounted packages for scale removal from incoming natural gas. Venturi scrubber and disengagement vessel, fabricated in 316 stainless steel with a 38barg design pressure. Supplied through APC Process Engineering (a wholly owned subsidiary of ERG) for QAFCO 5 project – identical packages for QAFCO 2, 3 and 4 expansion phases also supplied by APC. Project value €1m, completed 2010.
Quality and certification
All ERG systems are designed and manufactured to ERG's ISO9001 Quality Management System, are CE marked as required to the Pressure Equipment (97/23/EC) and ATEX ( 94/9/EC) Directives, and are designed according to British, European and International Standards.
GET IN TOUCH
tel UK office: +44 (0) 1403 221000
tel Middle East office: +962 6515 9021 ext 106
e-mail info@ergapc.co.uk