Microelectronics
ERG's purpose-designed scrubbing systems are engineered to suit each application and client's requirements.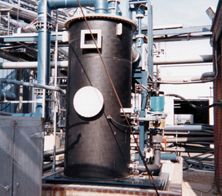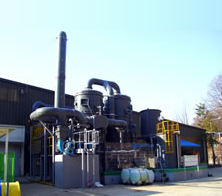 During the microelectronics boom years in the 1990s, ERG installed a variety of plants treating acid off-gases (HF, F
2
, HCl, Cl
2
, etc) with the capability to handle the sticky silanes formed from chlorosilane hydrolysis.
We continue to offer high efficiency packed tower scrubbers and non-clogging and highly efficient V-tex® scrubber packages, each optimised for clients in the micro-electronics and optical fibres sectors. And as you'd expect, each integrated system comes with an extraction ductwork system (segregated as required), a simple to operate control panel, and is backed with a process guarantee.
Demonstrating IPPC compliance is straightforward as our robust and thoroughly well-engineered systems offer peace of mind to plant operators and the community beyond the site boundary.
Quality and certification
All ERG systems
designed and manufactured to ERG's ISO9001 Quality Management System,

are CE marked as required to the Pressure Equipment (97/23/EC) and ATEX (94/9/EC) Directives, and

are designed according to British, European and International Standards.
Vessels can be supplied in accordance with PD5500, BS4994 or ASME VIII.

GET IN TOUCH
tel UK office: +44 (0) 1403 221000
tel Middle East office: +962 6515 9021 ext 106
e-mail info@ergapc.co.uk