V-Tex® Stripping Technology
V-tex® strippers achieve higher removal efficiencies than traditional technologies without moving parts or random packings which are prone to fouling.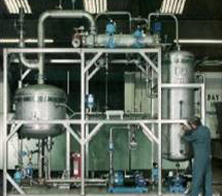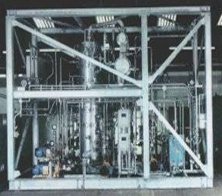 V-Tex® Stripping Technology is used for the stripping of liquors across a range of sectors including pharmaceutical, petrochemical, fine chemical and oil and gas industries.
For steam and air stripping the benefits of using V-tex® include:
High efficiencies of removal/stripping, in low and variable stripping gas flows
Compactness – typically one third to one fifth the size of a packed column for the same performance
No internals to foul and due to the alignment of the opposed jet nozzle and the intense spray pattern and high velocity droplets in the cyclonic spray chamber is self-cleaning
Acetone

Ammonia

Amyl acetate

Amyl alcohol

Aniline

Benzene

Butyl acetate

Carbon tetrachloride

Chloroform

Dimethyl formamide

Fermentation broths

Iso-octanol
Isopropyl alcohol

Kerosene

Methanol

Methyl iso butyl ketone

Methylene dichloride

Para-nitrochlorobenzene

Phenol

Saturated salt solutions

Tert butanol

Tributyl phosphate

Trichloroethylene

Xylene
Some typical examples of its use are included in the
V-tex® case studies
. In addition V-tex® pilot plants are available.
GET IN TOUCH
tel UK office: +44 (0) 1403 221000
tel Middle East office: +962 6515 9021 ext 106
e-mail info@ergapc.co.uk